The Jakob Kvistad stone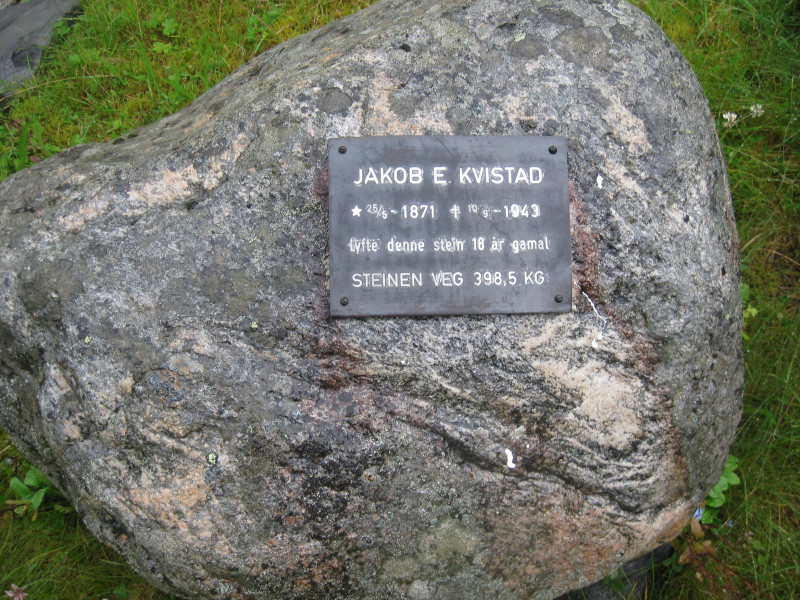 History
Jakob Kvistad was widely known for his strength, and this stone is a reminder of that legacy. He lifted this 398.5kg (879lbs) stone whilst he was building a new barn. Impressive for any human, but even more impressive is that he was only 18 years old at the time!
The stone is located in Norway, not far from the Skårasalen mountain, in an area with a low population. A few locals may know of the stone, but information about its history may have faded over time.
The plaque on the stone reads:
JAKOB E. KVISTAD
★25/5 - 1871 ✞10/9 - 1943
Lyfte denne stein 18 år gamal.
Steinen veg 398,5kg
Translated:
JAKOB E. KVISTAD
born 25/5 - 1871 died 10/9 - 1943.
Lifted this stone at 18 years old.
The stone weighs 398.5kg
Location
The Jakob Kvistad stone is located in Kvistad, Norway.
The estimated location is on our map.
References
Jakob Kvistad Stone - werelate.org
Jakob Kvistad Stone - hjorundfjord.no