Húsafell Stone
---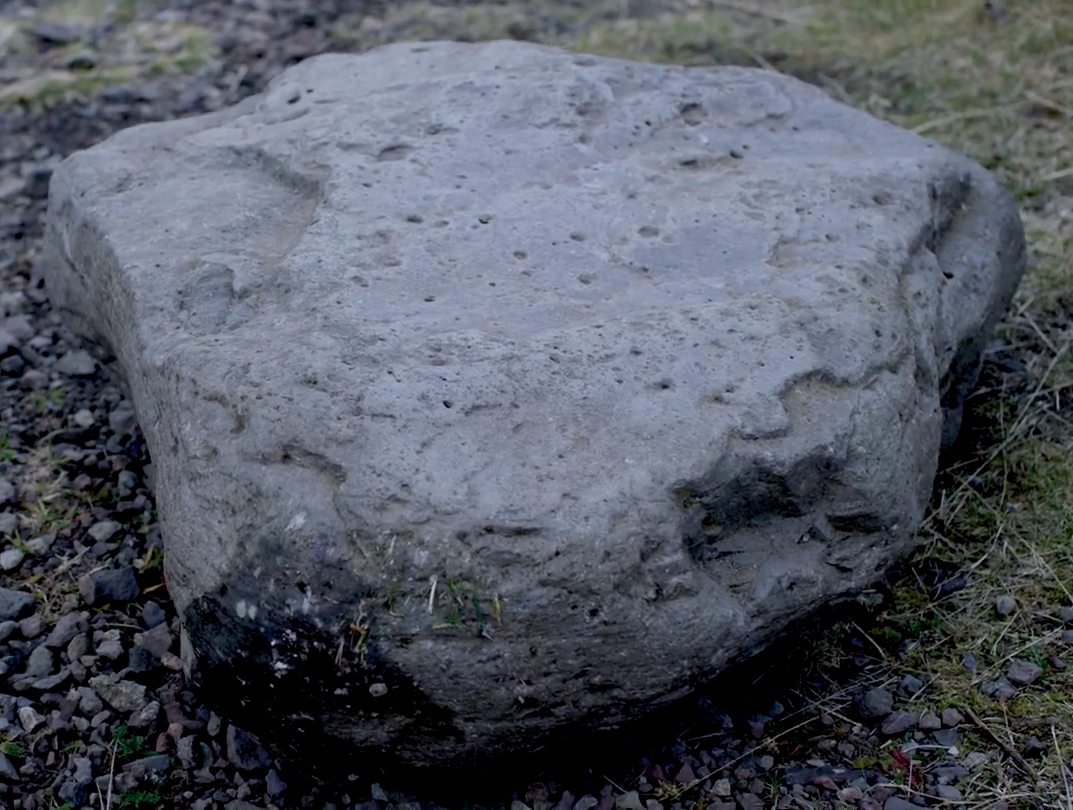 Arguably the most famous of the historic lifting stones, the Húsafell stone, named Kvíahellan ('pen slab') weighs 186kg. It was used as the gate to a stone sheep's pen built by reverend Snorri Björnsson. The stone is made of basalt.
Challenge
There are three main challenges to attempt with the Húsafell stone.
The first is to lift the stone onto the southern part of the northern opening into the fold.
The second feat is to lift the stone on to a big stone on the northern wall of the pen. Snorri's name is engraved here - though it's difficult to see.
Finally, for 'Fullsterkur' status, the lifter must pick and carry the stone around the pen without putting it down.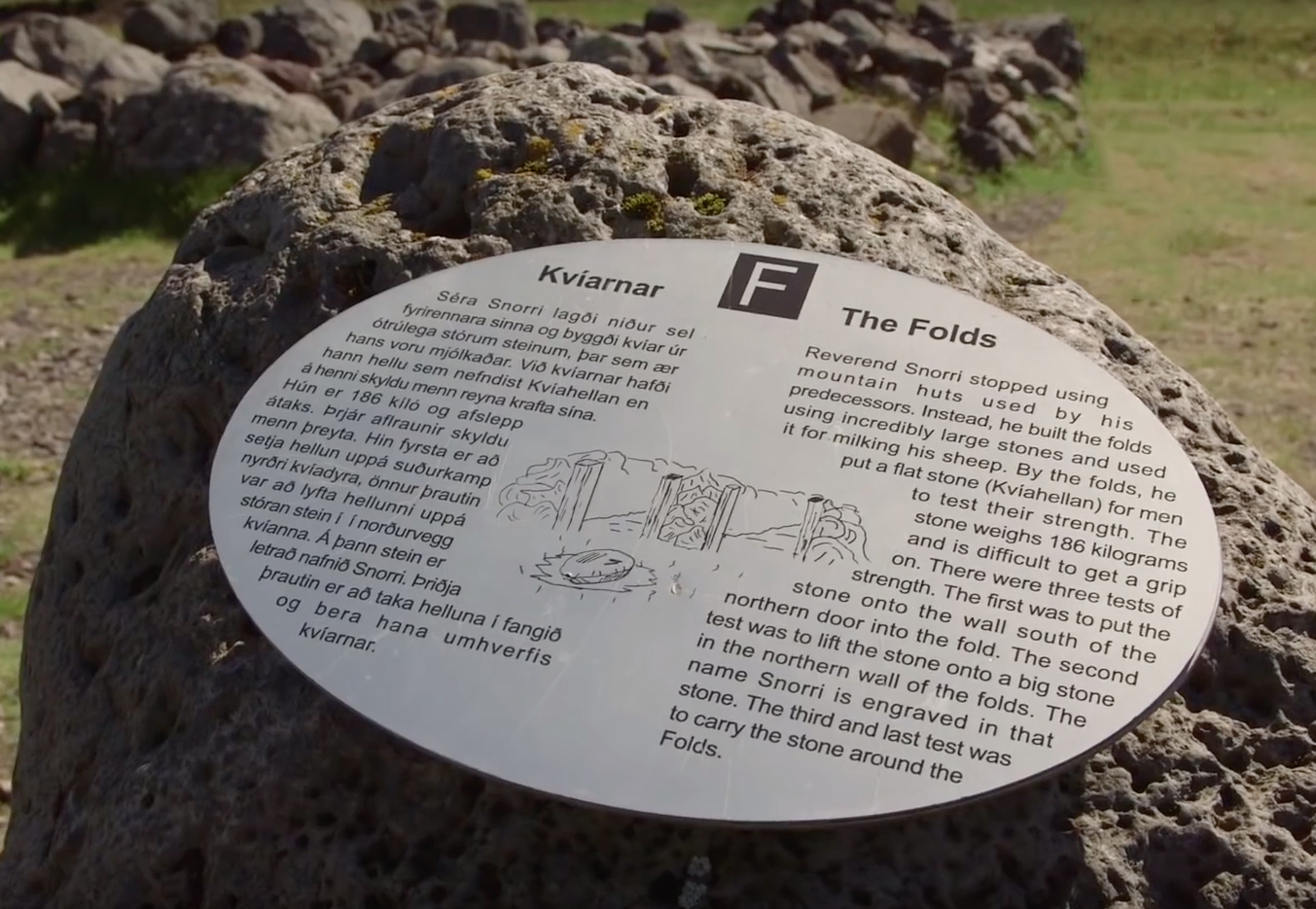 History
Reverend Snorri Björnsson built the stone pen himself to keep goats and sheep when milking and shearing. The stone was used as the gate to the pen, but it is not known when the stone started to be used as a test of strength. Sources suggest that passing travellers would test their strength with the stone - which Snorri named Kvíahellan.
Snorri lived on the farm for around 50 years between 1756 and 1803. Which suggests that using the stone as a test of strength could go back nearly 250 years.
Snorri's daughter is said to have carried the stone around the entire pen. Some variants of the legend say she carried it around twice.
Location
The Húsafell stone sits next to the sheep pen for which it was the gate.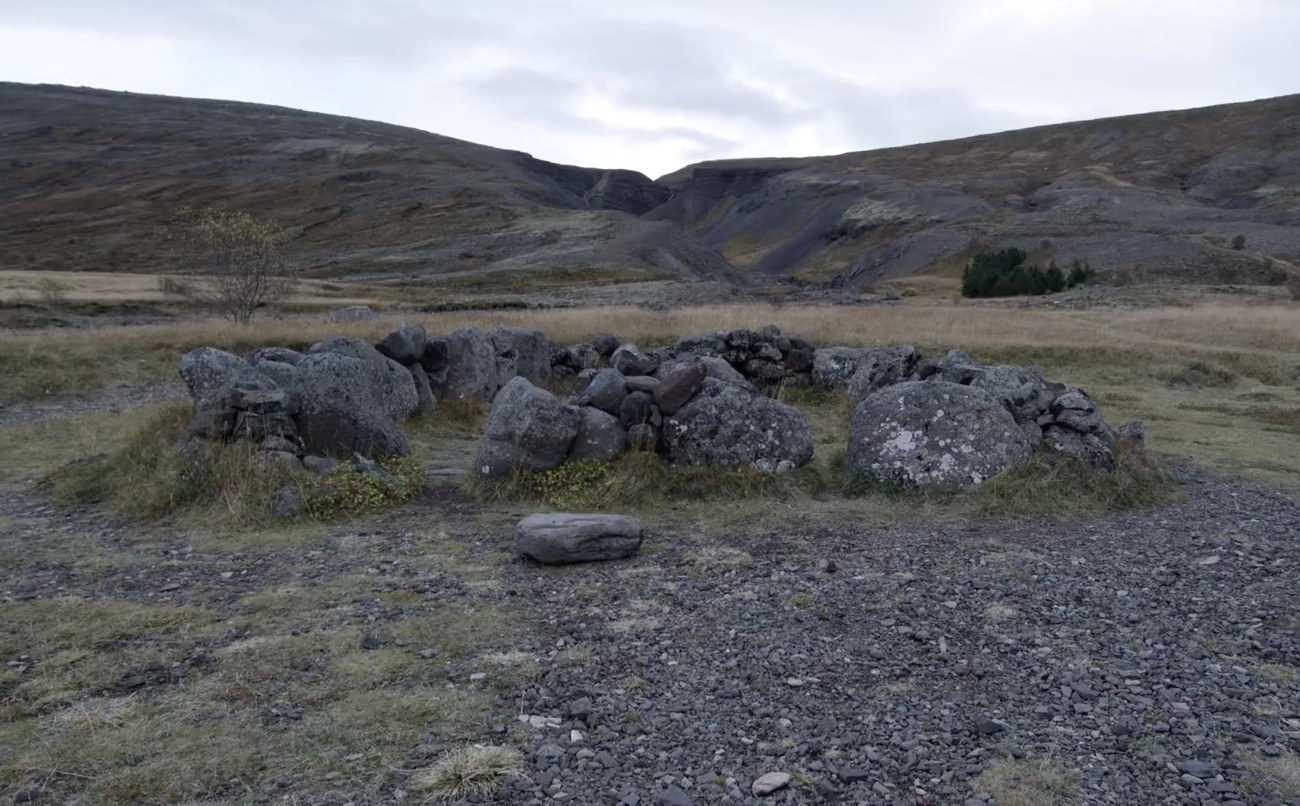 The precise location is on our map.
In competition
The Húsafell stone has been used in competition many times.
World's Strongest Man 1992, Iceland
Iceland's Strongest Man 2017
Arnold Strongman Classic 2019 (replica stone)
Iceland's Strongest Man 2019
Arnold Strongman Classic 2020 (replica stone)
Hafþór Júlíus Björnsson holds the current record for the Húsafell stone carry at 98.16 meters - achieved at Iceland's Strongest Man 2019.
We may be missing some competitions that the stone was used in. If you know of any that aren't on this list contact us.
Related stones
A replica Húsafell stone was created for the Arnold Strongman Classic, using stone from the farm at Húsafell.
Loadable steel shields are found in gyms and strongman competitions to simulate the carrying challenge of the stone.
In media
Featured in Fullsterkur
References
Stonelifting: An Ancient Test of Strength Revived - Martin Jancsics and Dr. Bill Crawford